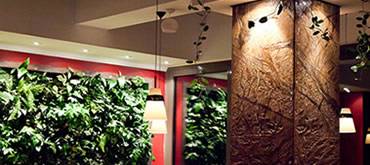 Choose to metamorphose those bulky, unaesthetic pillars which often disrupt the harmony of an interior space, integrating them into the décor. Surround them by water and let its purl complete the image of your space!
This kind of project emerged from our wish to offer aesthetic solutions to those who want to mask the presence of bulky pillars and to create a soothing and harmonious environment. Creating a water column involves wrapping up the pillars into water curtains, entirely or only on one or two sides. Each project is customized depending on the clients' wishes. More projects!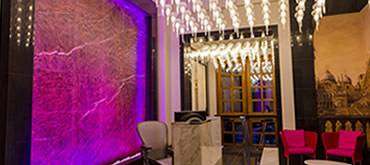 Reinvent any interior by adding to it the serenity of Water walls. Meant to bring the beauty of nature to any room, water walls induce inner calm and relaxation in their viewers. The visual effect combines with the audio one to create a harmonious and elegant environment.
Water walls are remarkable due to the texture and colour of the marble plates which highlight the water flow, but also because of the waves forming on the manually chiseled stone surface. Water walls bring the whispering of waterfalls into any interior. More projects!

Opt for Water curtains if you want a sophisticated interior, with a decadent note that will remain ingrained in the memory of those who cross your threshold. The most spectacular water games take the shape of water curtains, a bluConcept exclusive creation.
Classical interior fountains are overshadowed by our water curtains due to their hypnotising waves which induce a state of relaxation and euphoria in any viewer. Often used to cover separating walls, water curtains enveil both sides of the fountain, looking like they are graciously floating in the air. More projects!
One-Off models for Decorative Fountains
"Water is a flowing emotion."
What defines us?
Permenent innovation
We are constantly looking for new solutions, materials and technologies meant to bring to life our clients' architectural views and to revolutionise the world of decorative fountains.
Flawless quality
Every project enjoys the warranty of seamless quality and careful attention to every detail. No compromises and excuses! Quality is our business card.
Customised projects
Our projects are tailor-made, according to the clients' wishes. The clients share with us their preferences and we contribute solutions and proposals.
Client portfolio
Our clients come from different fields of activity, but they all share a passion for impeccably built interior fountains.